Acro Yoga Bali, Canggu, Seminyak
Are you looking for Acro Yoga Classes in Bali, Canggu and Seminyak? Come and join our team of teachers for a warm and friendly experience. Our instructors will focus on guiding you safely and securely. Furthermore, you will learn and work on new positions with your fellows' Yogis in a fun and open-minded atmosphere.
What is Acro Yoga?
Acro Yoga is a relatively new type of Yoga that combines Yoga Asanas, postures and gymnastics, and acrobatic moves.
It is always practised with one or two partners together that support each other with their bodies and body members.
To sum up briefly: one of the Yogi will hold the other one with his / her legs, arms, shoulder or other parts of their body, and the other one will try to keep the balance and hold the position for the time allocated by the teacher.
Most people try Acro Yoga to get a different experience and switch from a " classic" Yoga asana practice to explore new territories and experience something more creative while having a lot of fun.
History of Acro Yoga
Acro yoga was created around 2000 in Montreal by Eugene Poku and Jessie Goldberg. A few years later, in 2003, the Acroyoga international association was created in California LA. Since then it has widely spread all over the world and you can regularly see on social media people practising and having fun together.
In 2006, people from AcroYoga International decided to codify this new practice. They unified all the technics from regular practitioners, going from Yogi, Gymnast, and acrobats, and they wrote a book to summarise all the technical parts of this new lineage.
How to practice Acro Yoga
Firstly, you need to find a good school or studio that focuses on quality acro yoga lessons. Make sure that your school is registered or your teacher is certified as an acro Yoga instructor. Don't hesitate to check feedback from previous students.
Then once you start your class, your teacher will surely guide you into a body warm-up or a small sequence to prepare your body, joints or muscles. Then he will ask y you to pair with one other Yogi or maybe even with two other people.
Just follow every step of the process smoothly and follow your teacher's instructions, don't take any silly risks, and the most important is to trust your partner. Learning how to fall is important, too, in Yoga. Don't hesitate to fail and be ready to fall securely, with no harm.
Difference between Flying Yoga and Aerial Yoga
Flying Yoga will be done with specific gears ( hook and linens attached to the roof/ceiling) and can be practice by a solo individual.
Acro Yoga will be practice with another person, practicing as a team. One of the participants will hold the other one for the time of the Asana.
So in one, you need the gears, and in the other one, you need a partner
Please note that the Asanas (postures/positions) are totally different too and that your instructor will guide you to reach those poses. In both types of Yoga, safety is the key, so you will have to make sure to find a serious and reputed studio in your area.
Main postures or Asanas
There is numerous Asanas in Acro Yoga, some very close to acrobatic postures
Front Plank : it is basically like a normal plank, with one Yogi one top of each other, the bottom one holding hands from the upper one and putting his or her legs on the other partner's groin
Chair pose on shins : one yogi on the floor, tight to the belly, tibia horizontal . The other one on top of the tibia, executing a normal chair shape.
Boat pose : One Yogi lying on the floor, legs up. The other one sitting on the palm of the feet of the other one and executing a normal boat pose shape
Plank press : One Yogi sitting on the floor, legs up . This same person will hold the other one by
putting his feet on the groin . The top one will extend his / her body to get a horizontal body
shape.
Benefits of Acro Yoga
There is many benefits in Acro yoga, on top of being a creative and challenging activity that stimulate the mind.
Building muscle and core strength ( by holding position and balance for a longer period )
Work on your balance and develop your focus and mental clarity
It helps build your social interactions with peoples as you will be working as a team and you might change partner during your Acro Yoga session
Help works on your fear and your confidence : doing technical asanas, and manage to do it successfully , and with sometimes falling, will help your build mental strength and overcome your fear of falling.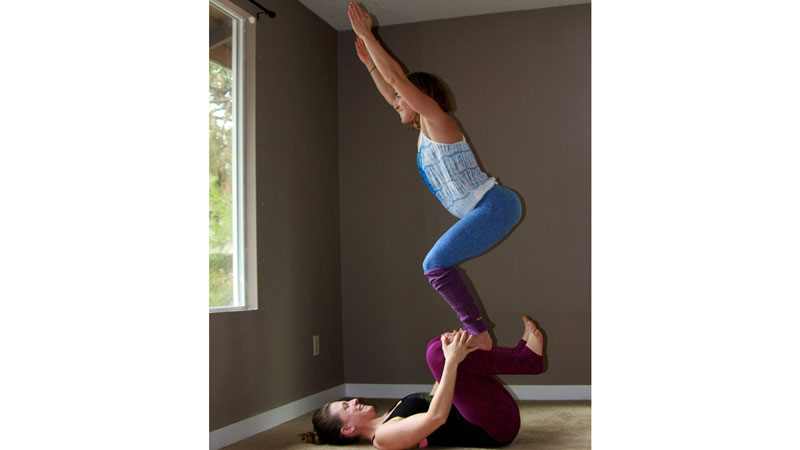 Why practice Acro Yoga in Bali
Bali is one of the most paradisiac places in the world. Beaches, tropical forests, volcanoes and diving are the most well-known activities. But Yoga in Bali is also very famous due to the setting and marvellous surroundings of the Islands. Having a majority of Hinduism culture and a strong spiritual footprint on the island of gods create a magical vibe to practice Yoga.
There are many suitable Acro Yoga lessons in Bali, with skilled and qualified teachers.
Join ADDA YOGA for the best Acro Yoga classes in Bali, Canggu, Seminyak
We aimed to provide our students with a Magical experience with qualified teachers in our beautiful Shala on the island. Experience with us a fun and qualitative Yoga class in Bali!
Come and join us in Bali, Canggu, Seminyak for our classes and Acro yoga workshops !