TIMETABLE AND YOGA CLASSES SCHEDULE
Don't limit your Challenges, Challenge your limits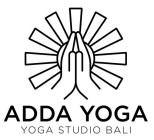 YOGA SCHEDULE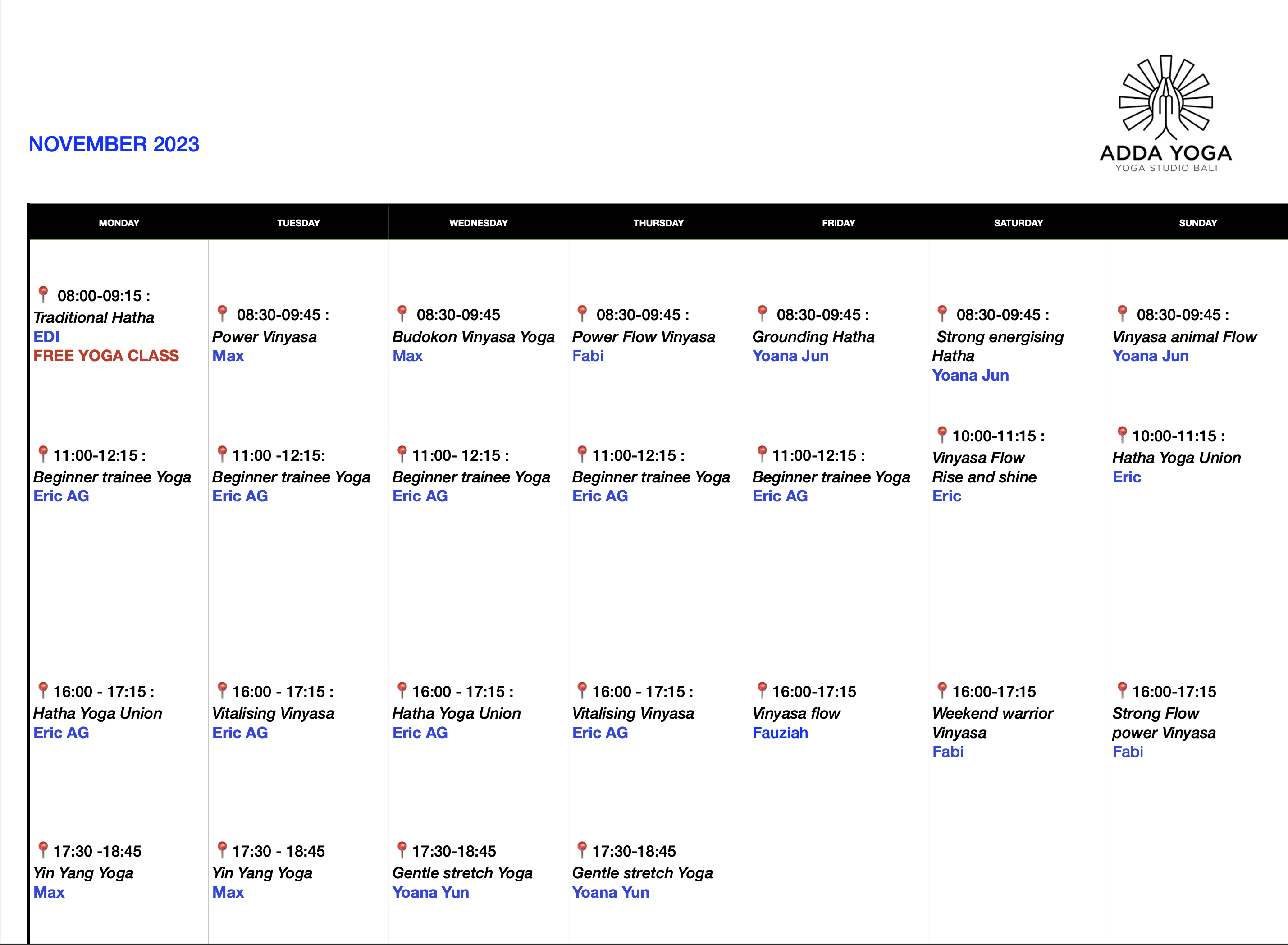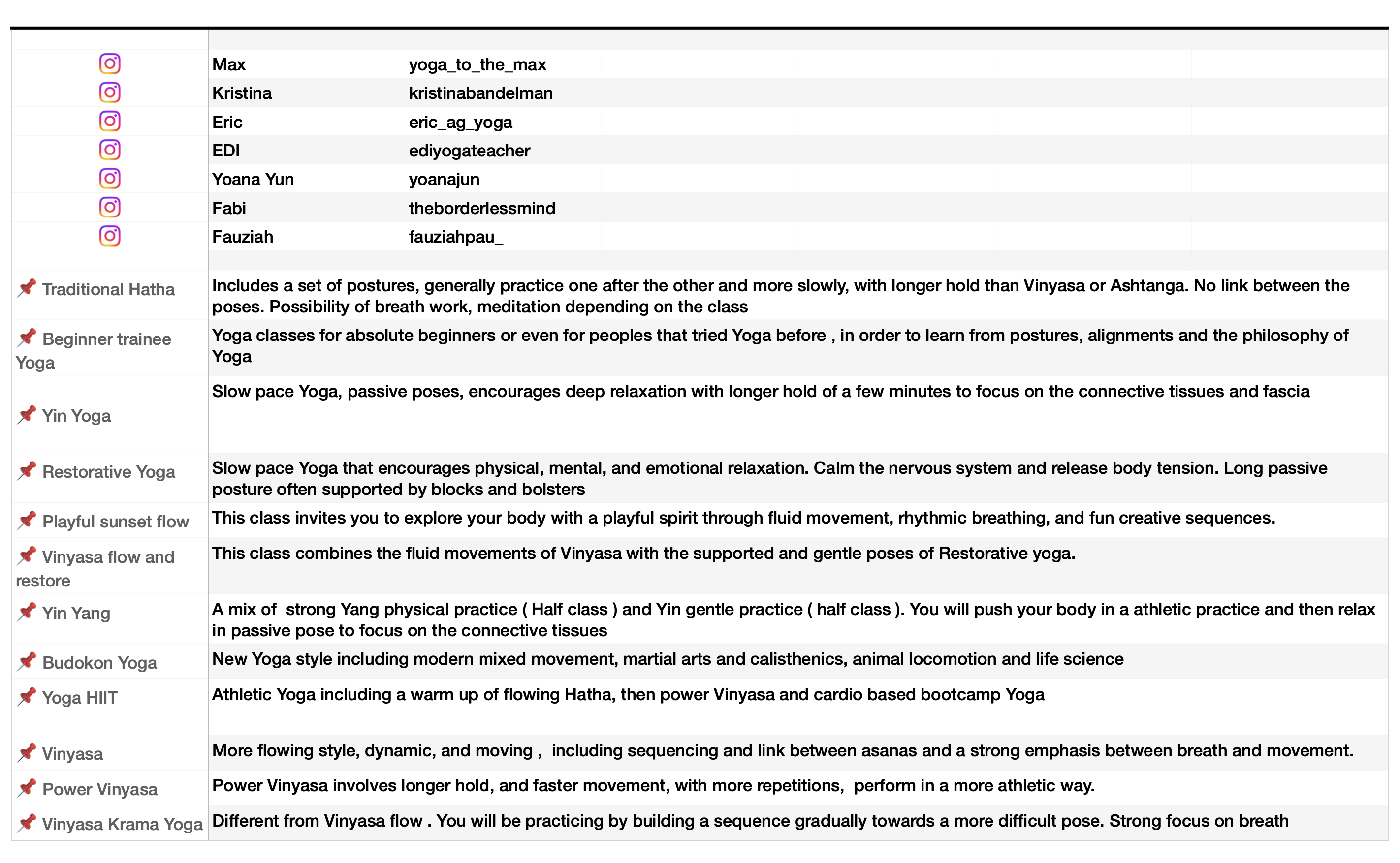 10 % DISCOUNT AVAILABLE FOR ALL AWAN CONNECTION CUSTOMERS
(Not on top of the KITAS Discount rate or Indonesian rates : only one discount possible)
With love and kindness,

When the pass actually start ? Day of purchase or first class ?
All passes are activated on the day of purchase
How long are the class pass valid for ?
All class pass and memberships are valid 6 months from the date of purchase. The pass is activated on the day of purchase
How it works for the booking, shall I go to the counter ?
Yes, we don't have any online pre-booking classes. You can register at our counter and our nice crew will book you in.
Can I pay by credit card ?
Yes, we have a credit card facility (2.5 % Surcharge). You can pay cash too.
Can we buy a pass or a few Yoga classes ? Is it cheaper ?
Yes, as explained in our rates section, we have different options (6 classes, weekly unlimited or monthly unlimited). Buying a few classes is cheaper. If you are a KITA visa holder, make sure to present it at the desk before booking
I started a class, but after a few minutes, I realized it's not my taste. Can i get out and have a refund?
Unfortunately, not. All our classes a non-refundable and not transferable
I couldn't use all my classes and I still have some classes left? Can I get a refund?
Unfortunately not, class pass are nominative and must be used by yourself.
Can I share my class pass with my friend ?
Unfortunately not, class pass are nominative and must be used by yourself.
What's happening if I get injured ?
Of course, we don't want anybody to get injured during classes. If this happened we will help as much as we can and call doctor or ambulance if needed. You know your limits better that anybody, so it's important that you stop if needed and don't push yourself.If you have any issues, you must see a doctor before for recommendations and advice on any physical activities. He will tell you if you can practice or not .We won't be held responsible for any physical issus or injuries and you must have a travel insurance to get hospital cover during your trip Please see our terms and conditions, where everything is explained in details :
What shall I bring ?
Yourself and your great mood ! And a water bottle, plus a towel. We have a water fountain for refilling . We provide mats and all the Yoga gears.
Welcome to
ADDA YOGA BALI
Arrive On Time, No Late Entry
A good yoga class will leave you well balanced, with a peaceful mind and totally fulfilled. But what worse than start your practice than being late? You don't want any stress or negative emotions that might ruin your yoga session in respect to all the yogis, we don't accept any late entry to the shala. Try to arrive 10-15 minutes before to set up your mat, your gears and do some warm up exercises, meditate or simply socialize with your fellows yogis.
Leave Your Ego
Behind
Ego surrender is an important part or yoga. So, you have to be ready to accept adjustment from your teacher, no matter your level. You have to come with an open-minded attitude, positive mindset and a humble approach. No judgment on other beings, no negative attitude, no gossiping or show off behavior.
Mind Your Personal Hygiene
In respect to your fellow yogis friend, please make sure you bath, brush your teeth and have a correct personal odorless hygiene. Use a clean mat and gears and make sure to utilize fresh towels.
Be Aware Of Your Space
If the class is busy, make sure to leave some space around you for other yogis. don't walk on other people's mat
Remove Your Shoes
Yoga is practiced with bare feet, and we kindly ask you to leave your shoes at the door.
Tell Your Teacher About Any Injuries
Communication is the key: please tell your teacher if you have any injuries or body related issues. as a result, he can adapt his teaching to your needs
You can use your phone or camera only …
You can take photos before and after the class, and don't hesitate to tag us ! But once the class has started, we try to avoid in order to get deeper in our practice and as we consider the shala as a sacred space, where we tend to focus on mind clarity trough meditation and practice. So we ask you to avoid, unless there is some funky arm balances or aerial postures that you want to share !
Try To Minimize Conversation,
Our studio is considered a space for reflection, self-study, and focus, and we aimed to maintain a quiet atmosphere (if not an altogether silent one)
Clean Up
Once your practice is finished, make sure to clean your mat and blocs with the spray provided. Put back all the gears at the right spot. Hygiene is an important topic for us and all the equipment and premises are cleaned thoroughly on a regular basis